Our Apprentice Chloe
Published: 10th July 2015
Chloe Kingsland, 17 is a first year Engineering Apprentice at Ford Aerospace and a graduate of the Ford Engineering Academy's class of 2014.  Chloe is currently working towards achieving her level 3 BTEC in Engineering at South Tyneside College, a member of the Marketing Committee sat down with Chloe and asked the following questions about what it's like being an apprentice at Ford.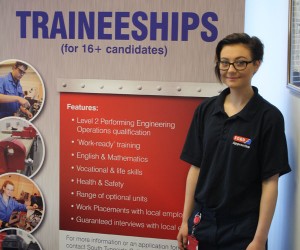 When did you realise your interest in engineering?
'I first realised my interest in engineering when I was 13 years old, we had to pick our options at Comprehensive School and I decided to study Product Design because I have always been good with my hands and thought I would enjoy the practical element of the syllabus, and I certainly did, from that point on, I was hooked.'
What made you think of joining the Ford Engineering Academy? 
'I first heard of the Ford Engineering Academy when I read an article in the local newspaper which featured our Chairman, Geoff Ford and Geoff described the Academy, what it offered, what it was all about and I especially liked that as part of the six month course at the Academy, six weeks of that would be in the workplace of a local employer where I would gain hands on experience in engineering.'
What do you enjoy about your role within the company?
'Again, the fact that my role within the company is extremely hands on interests me, I like that you have nothing but raw material at the start of a job and at the end of the process you have a finished product, and the fact that I played a role in making that product makes me extremely proud.'
What do you find challenging about your role? 
'The most challenging aspect of my role at the moment is programming the machines, it is something I do not have much experience in, but with the supervision of my colleagues and the further into my qualifications I go, I am sure it will become easier.'
What is it about Ford that you think would appeal to potential apprentices?
'At Ford, there is a strong emphasis on apprenticeships, we are an extremely valued part of the work force and the apprenticeship programme is excellent.  I also like the fact that working at Ford is just like being part of one big family, you aren't just a number.'
Where do you see yourself in 10 years time? 
'In ten years time I would like to be a fully qualified engineer working in the CNC Milling department or possibly even a team leader at Ford.'
Find out more about our apprenticeships and the Ford Engineering Academy on our careers page.