The Edge Awards
Published: 9th November 2018
The Ford Engineering Group were delighted to be invited to attend Gateshead College's Edge awards. In total, 15 awards were presented to employers and apprentices who excelled in a range of specialisms including construction, business, customer service, engineering and retail.
A new accolade this year, the Outstanding Contribution to Apprenticeships Award, was presented to Ford Engineering chairman Geoff Ford MBE. Geoff has pioneered the development of the Ford Training Academy in partnership with the college to ensure young people have the attitude, skills and knowledge to pursue a career in the manufacturing and engineering industries in the North East.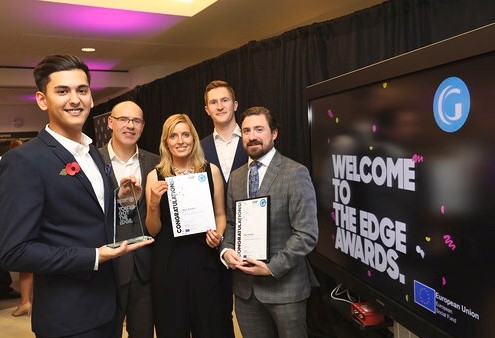 Rhys Donald, was named Outstanding Apprentice of the Year as well as Engineering Apprentice of the Year. Rhys, an apprentice at Ford Engineering's aerospace division, was commended for his engineering talents, general business acumen and willingness to spend time helping other apprentices.
The judging panel was made up of local industry experts including Paul Carbert, policy advisor at North East England Chamber of Commerce and Denis Heaney, enterprise coordinator at the North East Local Enterprise Partnership. Also on the panel were Robert Irving, head of Newcastle business support at Brewin Dolphin – winner of last year's Large Employer of the Year Award – and Ivan Jepson, director of business development at Gateshead College.
Ivan Jepson said: "Our Edge Awards provide us with the opportunity to reward and recognise the fantastic achievements of our apprentices and also the companies that employ them. Each of our winners are living proof that apprenticeships have a positive impact on both businesses and individuals.